Spring Pea & Carrot Top Fried Rice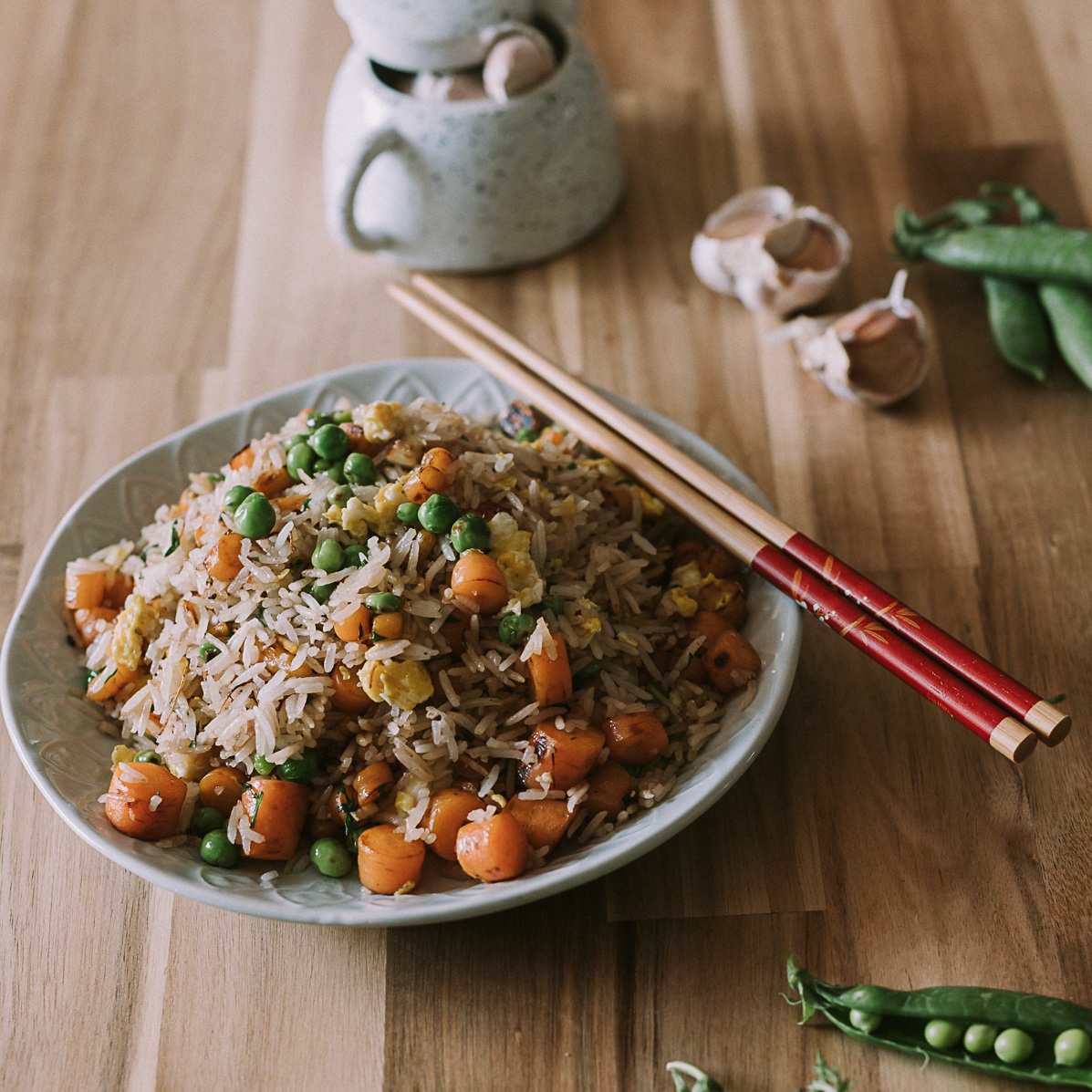 "Fried rice is one of those recipes that can easily be altered to accommodate anything that is kicking the bucket in your crisper."
So keep it in your back-pocket for end-of-week fridge foraging!
RECIPE CREATED IN PARTNERSHIP WITH Riverbend Gardens x their csa program
Easy peasy
I don't know how it's possible that I haven't posted a fried rice recipe yet considering how regularly it makes it into the rotation in our house. Perhaps I thought it wasn't quite posh enough to grace these pages? Who knows.
A friend of mine told me recently that where I excel with food, and what sets me apart on the scene is that I use loads of Canadian ingredients and turn them into good-for-the-soul, easy recipes.
So that's where I'm doubling down. Easy does it, is the name of the game.
Use it or lose it
Fried rice is one of those recipes that can easily be altered to accommodate anything that is kicking the bucket in your crisper. It is, however, particularly delicious when it's made with beautiful, freshly picked seasonal produce.
Right now, here in Alberta that might look like today's dish (shelled peas, spring carrots & their tops) but later in the season, it will look completely different once corn, garlic scapes & beans make their appearance on the market stalls.
A few ideas on things that can be thrown in:
Any vegetable in the crisper. Really. We've put everything from rapini to cabbage in our fried rice and it's all delicious.

Leftover protein. In today's dish, we used beautiful eggs from Weathered Barn Farms, but you can throw in just about anything. Heck, that's what the Chinese take out places do! Leftover rotisserie chicken, shredded pork or even beans. Toss it in, call it good.
Leftover rice. Yes. You can absolutely make this with a fresh batch of rice, but it needs to be said that it tastes better with day-old rice. Why? My guess is that the excess moisture being gone, the rice soaks up more of the sauces & seasonings which results in a more flavorful stir fry.
MAKES 2 SERVINGS
3 C cooked white rice
8-10 spring carrots, chopped (a little over a cup's worth)
Half the carrot tops
1 C shelled peas
3-4 garlic cloves
2 large eggs
2 T oyster sauce
2 T sesame oil
1 T white pepper
1/2 - 1 t macro kelp salt*
5 MINS PREP + 10 MINS COOK
Place carrots & peas in a deep sided pan or wok, over medium high heat with half of the sesame oil

Once the peas have become a bright green, chop the carrot tops finely and add them in along with the garlic & toss well

When the garlic becomes fragrant, add rice, oyster sauce, remaining sesame oil, white pepper & kelp salt

Toss well then move everything to one side of the pan, crack the eggs into the pan and scramble without getting too many things mixed in

Stir eggs into the rice, taste and add a bit more salt if necessary

Serve & enjoy
* you can replace the salt with your favorite sea salt!
zero waste tips
The carrot tops that you don't use will keep in the fridge a while and can be turned into a delicious dip like this one or a salad-bowl like this one.
Alternatively, you can always pop them into a container that is freezer friendly and use them to make vegetable broth. The same is true for the pea shells & garlic skins!